2019 Annual Conference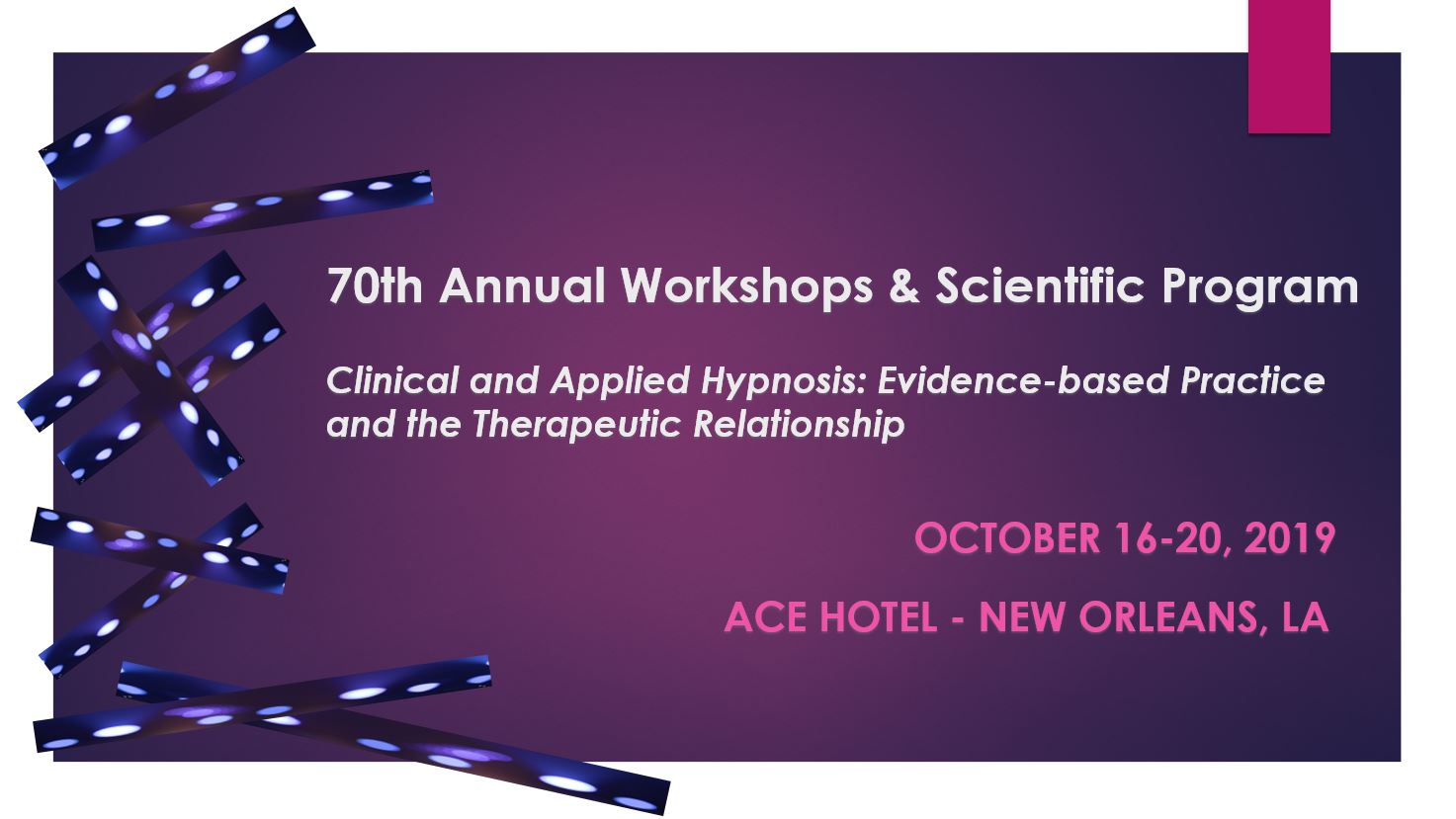 Introductory, Skills and Advanced Workshops plus Scientific Program.

#SCEH2019


Workshops meet accepted Standards of Training in Clinical Hypnosis and count toward SCEH Certification.

IMPORTANT DATES
Conference Registration Opens: July 2019.

Hotel Reservations: Now Open! Take advantage of special discounted hotel rates, available until they sell out or September 15th, 2019, whichever occurs first.  Reserve now.

About the Conference


This year's theme, Clinical and Applied Hypnosis: Evidence-based Practice and the Therapeutic Relationship, puts a focus, first on selecting treatment interventions well tested by rigorous research, and second, on personal mastery of the relationship variables that optimize all therapeutic interventions.

In the words of SCEH President, Don Moss, PhD, "We are very excited about our 70th Annual event!   We are confident this will be among our best conferences ever, celebrating the proud tradition of SCEH meetings that focus on the evidence base of hypnosis. We will explore some new and varied topics, while providing attendees the opportunity to gain CE credits, engage in vibrant debate and learn best practices and tools from instructors and colleagues."


Our 2019 conference will feature keynotes, symposia, and workshops that illustrate these twin themes, as well as scientific presentations extending the scope of hypnosis in both medical and psychological practice.

All Presenters and Attendees should review the SCEH Confidentiality Statement for Attendees and Presenters.
Getting Registered
Registration will open in June 2019.   Note that our Early Bird Conference Registration discount in effect until September 15, 2019.

We suggest using updated versions of newer browsers like Firefox or Chrome browsers for completing forms on our website.
Schedule
The conference runs from Wednesday, October 16 to Sunday, October 20, 2019. 
Conference Check In opens Wednesday, October 16 at the hotel at 3:30 PM.  Please plan your arrival to allow sufficient time to pick up your badge, conference program and CE packet. Thank you.
The Conference adjourns at approximately 1:30 PM on Sunday, October 20. 

Social Media
The hashtag for the conference is: #SCEH2019. Please use it in all posts and mentions you add to social media.  We appreciate your helping us to spread the news about this event. Thank you.

Site & Accommodations
The meeting will be held at the Ace Hotel in New Orleans. Make your hotel reservations early!  Learn more about the conference on our Site and Accommodations page.
Who Should Attend
Our events are designed for: Psychologists; Physicians; Social Workers; Counselors; Dentists; Chiropractors; Master's level Nurses, Clinical Nurse Practitioners and Health Care Coaches; other Master's level licensed mental health and healthcare professionals, and clinical and experimental researchers in hypnosis.  Any health care professional who is eligible for SCEH membership may register. Special student rates apply.
View SCEH membership eligibility requirements here.
Session topics are varied, and have included the following: providing a definition of hypnosis; reviewing clinical applications of hypnosis; reviewing the latest in hypnosis research; medical hypnosis and its uses; discussing hypnosis for pain management, hypnosis for ADHD, PTSD, hypnosis treatment for hot flashes, anxiety and substance abuse; discussing hypnosis in health care settings; reviewing clinical applications of alert hypnosis; discussing hypnotizability; discussing hypnosis and mind-body communication, mindfulness; and meditation; reviewing ego state therapy, trance, virtual reality hypnosis; discussing hypnosis and dissociation; discussing hypnosis and mind-body approaches.  The conference brings together top experts in the field of hypnosis to share the latest in both research and clinical applications of hypnosis.
Workshops & Scientific Program  
SCEH Annual Workshops
Our meeting brings together top experts in the field of hypnosis to share the latest in both research and clinical applications of hypnosis. 
SCEH offers introductory, intermediate and advanced level workshops of the highest teaching quality with most including experiential learning so attendees can put learned concepts into immediate practice. All SCEH workshops meet accepted Standards of Training in Clinical Hypnosis and count toward SCEH Certification Programs.

Workshops are scientifically-based and of the highest teaching quality.  Most workshops include demonstrations and/or practica or other experiential components and are led by leaders in the field.  A
faculty list and full workshop and session descriptions appear in the conference brochure.
Introductory (Basic) Workshop in Hypnosis  (taken as a cohort)

Intermediate/Skills Workshop in Hypnosis  (taken as a cohort, or Advanced Workshop attendees may also select program blocks they wish to attend)

Advanced Workshops in Hypnosis  (choose from a selection of full day, half day and quarter day concurrent sessions) 
SCEH Scientific Program
The Scientific Program features presentations or symposia that address empirical issues in hypnosis research and practice and related areas. Research presentations shine the light on novel empirically-based findings, including experimental studies, case reports, clinical trials, meta-analyses, and systematic reviews. Symposia bring together top notch researchers as they critically discuss empirical findings pertaining to a specific theme of relevance to the hypnosis community. Many symposia integrate research and practice or draw upon research in psychology, psychiatry, or neuroscience to highlight issues that improve our understanding of hypnosis. Our poster session provides another glimpse into the latest research in the field.
Scientific Program (general session)
Keynote Speakers and Symposia


Left to right: Éva I. Bányai, PhD; Irving Kirsch, PhD; Michael R. Nash, PhD; Karen Olness MD; Devin B. Terhune, PhD and Jeffrey K. Zeig, PhD

Keynotes (alpha order)
Éva I. Bányai, PhD, ELTE Eötvös Loránd University, Budapest, Hungary -- Hypnotic Relationship as Corrective Emotional and Cognitive Experience: Empirical Results and Theoretical Considerations
Irving Kirsch, PhD, Program in Placebo Studies and the Therapeutic Relationship, Harvard Medical School, Cambridge, MA -- What Hypnosis Can Learn from Research on the Placebo Effect and the Therapeutic Relationship
Michael R Nash, PhD, University of Tennessee, Knoxville, TN -- Still Seriously Curious about Hypnosis
Karen Olness MD, Case Western Reserve University, Cleveland, OH -- Hypnosis: By Another Name in a Variety of Settings
Jeffrey K. Zeig, PhD, The Milton H. Erickson Foundation, Phoenix, AZ -- Hypnosis as Evocative Communication

Invited Guest Speaker

Devin B. Terhune, PhD, Goldsmiths, University of London, London, England -- Revisiting (and Rethinking) Dissociation and Suggestibility        


Symposia
Watch this space for more information as it is finalized.
Poster Session



Posters are being accepted on a rolling basis.  Learn how to submit a poster.  View a list of Accepted Posters.

Continuing Education - CE Credits

Continuing Education (CE) credits are provided by the Institute for Continuing Education.  More information will be available when our program is finalized. 

The Annual Conference typically includes:
Conference Committee 
SCEH wishes to express its gratitude for the efforts of this year's Conference Committee.  The Committee invites your participation in this year's program and looks forward to a very successful event.
 Overall Meeting Co-Chairs:  David Reid, PsyD and Ciara Christensen, PhD
 Scientific Meeting Co-Chairs:  Zoltan Kekecs, PhD and Shelagh Freedman, MA
 Introductory Workshop Co-Chairs:  Paul Larson, PhD, JD and Sam Kohlenberg, LPC
 Intermediate Workshop Co-Chairs:  John Alexander, PhD and David Reid, PsyD
 Advanced Workshops Co-Chairs:  Joseph Tramontana, PhD and Joseph Green, PhD

Conference Updates

Bookmark this page and check back for updates.


 

Read a Recap of Last Year's Conference 


Curious to learn more about our conferences?  Read a recap and view photos about last year's event in our Focus Newsletter (PDF).

 

Student Scholarships


SCEH awards a limited number of competitive student scholarships for this event.  Learn more about Student Scholarships on our Call for Papers page..
Trying to Log in But Forgot your Password?

Forgot your password? Click on the previous link, enter the email you use for SCEH and your password will be sent to you.  Call our office if you need assistance.
Need help to log in?  View our guide.
---
Founded in 1949, the Society for Clinical and Experimental Hypnosis (SCEH) is an international organization of psychologists, psychiatrists, physicians, dentists, social workers and nurses who are dedicated to the highest level of scientific inquiry and the conscientious application of hypnosis in clinical and medical settings.

 Learn more about the benefits of becoming a member.
Society for Clinical and Experimental Hypnosis
70th Annual Workshops & Scientific Program
Clinical and Applied Hypnosis: Evidence-based Practice and the Therapeutic Relationship

October 16-20, 2019
Ace Hotel -- New Orleans, LA
#SCEH2019