SCEH 2016 Keynotes Announced for

67th Annual Workshops & Scientific Program

The Society for Clinical and Experimental Hypnosis (SCEH) has announced their conference keynote speakers for their 2016 meeting in Boston. The Society's 67th Annual Workshops & Scientific Program will take place from October 6 to 10, 2016 at the Hilton Boston/Dedham Hotel (Dedham, MA) and William James College (Newton, MA). The theme for the conference is The Future of Clinical and Experimental Hypnosis in the Era of Health Care Reform.
The keynotes for 2016 are:
Nicholas A Covino, PsyD, President, William James College, Newton, MA


Topic: A Role for Hypnosis in Light of Health Care Reform

James Carmody PhD, Associate Professor of Medicine, University of Massachusetts Medical School, Worcester, MA


Topic: Being in the Moment: Mindfulness Eases the Anxiety of Being Human

Terence M. Keane, PhD, Associate Chief of Staff and

Division Director, Behavioral Science Division, U.S. Department of Veterans Affairs and professor of Psychiatry and Assistant Dean for Research at Boston University School of Medicine, Boston, MA


Topic: Recent Advances in the Psychological Treatment of PTSD

Guy H. Montgomery, PhD, Icahn School of Medicine at Mount Sinai, Department of Oncological Sciences, Cancer Prevention and Control


Topic: Hypnosis in Cancer Care: Past, Present and Future

Steven Jay Lynn, PhD, Professor, Psychology Department, Binghamton University (SUNY), Binghamton, NY
Topic: Toward an Integrative Model of Hypnosis: My Personal Journey


Special Banquet Speaker
Elvira V. Lang, MD, FSIR, FSCEH, CEO, Comfort Talk® and Former Associate Professor of Radiology, Harvard Medical Schools


Topic: Training Thousands?




In addition to the keynote presentations, attendees can choose among Introductoryy Intermediate and Advanced Workshops in medical, clinical and experimental hypnosis and a Scientific Session featuring research presentations, panels and symposia focused on the latest research in the field.
Commenting about the event, Gary Elkins, PhD, ABPP, ABPH, SCEH President said: "We are very excited about our new format and the chance to have our event at an educational institution like William James College. Our 67th Annual Workshops and Scientifc Session promises to be among our best to date. We plan to explore some new and varied topics from the leading minds of hypnosis, while proving conference attendees the opportunity to gain CE/CME credits, engage in vibrant debate and network with colleagues and discuss the leading issues of the day."
Registration will open in June. More details can be found on the Society's website at http://www.sceh.us/2016-conference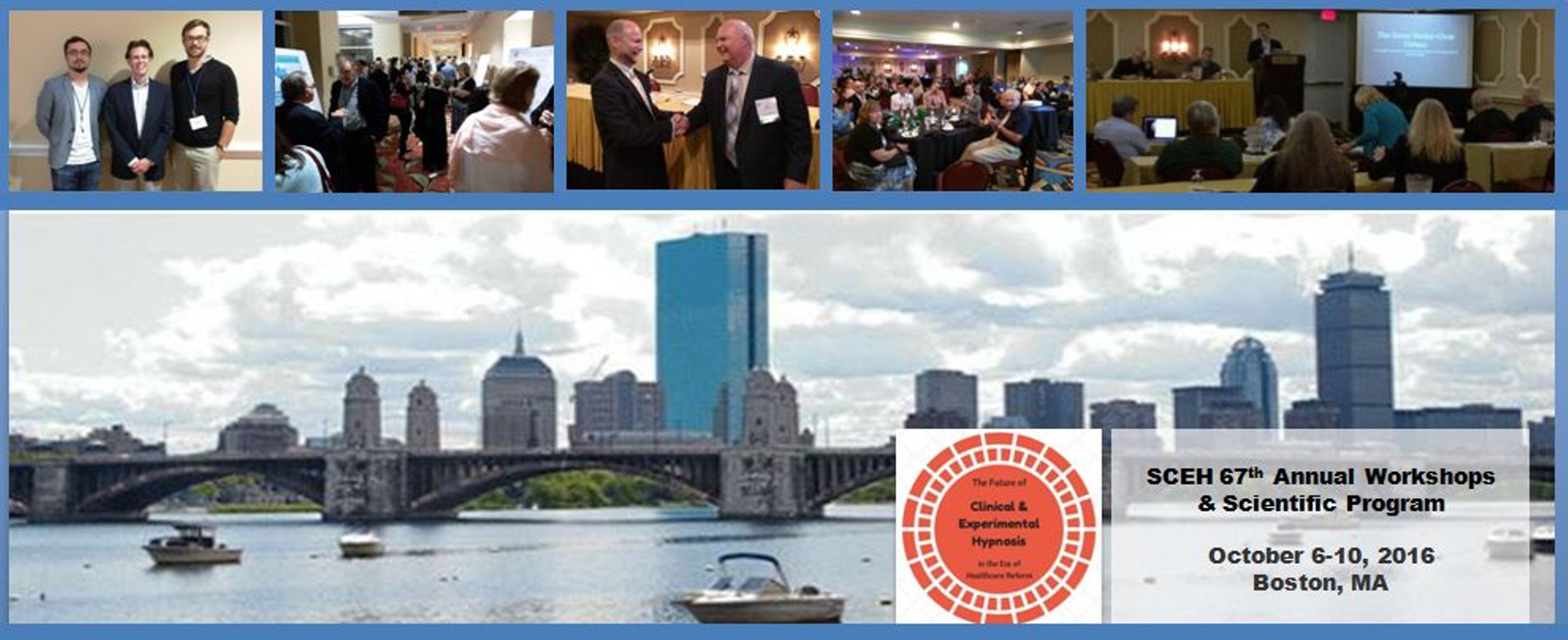 Share this post: