2021 Conference Keynotes Announced
SCEH Announces Keynote Speakers for 2021 Conference
The Society for Clinical and Experimental Hypnosis is pleased to announce the following keynote presentations and speakers for this year's
Annual Conference.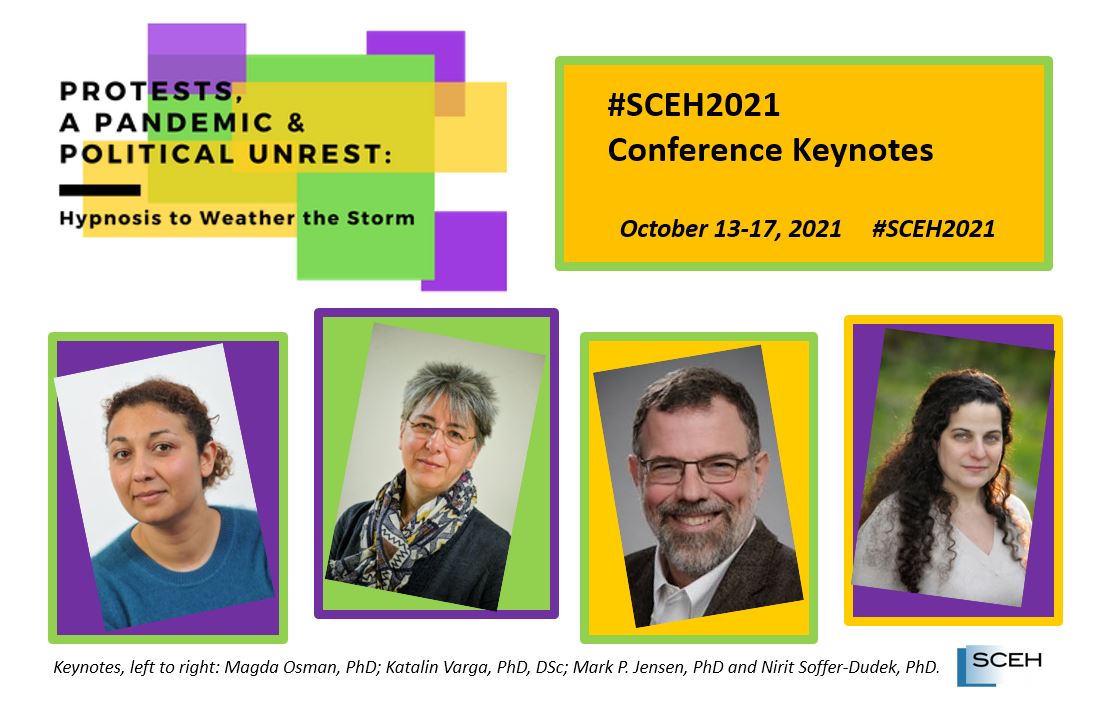 The 2021 keynote speakers are (in order of appearance):
Saturday, October 16, 2021
9:45-10:45 AM
Public Perceptions of the Unconscious
Magda Osman, PhD, Queen Mary University of London, London, United Kingdom

Dr. Osman is Reader in Experimental Cognitive Psychology at Queen Mary University of London. She is an Alan Turing Research Fellow, Head of the Dynamic Learning and Decision-Making Lab, and head of the Centre for Mind in Society. Her research interests cover a range of areas that include decision-making, learning, problem-solving, biases, risk and uncertainty, agency and control, and the unconscious.
12:00-1:00 PM
Brain Oscillations and Hypnosis: Empirical Findings and Treatment Implications
Mark Jensen, PhD, University of Washington, Seattle, WA, USA
Dr. Jensen is Professor and Vice Chair for Research in the Department of Rehabilitation Medicine at the University of Washington in Seattle. He is the President Elect of the International Society of Hypnosis.
1:00-2:00 PM
The Power of Our Words While Communicating with the Critically Ill
Katalin Varga, PhD, DSc, Eötvös Loránd University, Budapest, Hungary
Dr. Katalin Varga is a member of the Faculty of Education and Psychology at Eötvös Loránd University in Budapest. She is Head of the Affective Psychology Department, and a board member of the International Society of Hypnosis.
Sunday, October 18, 2021
9:45-10:45 AM
Dissociative Absorption and Its Pathological Manifestations
Nirit Soffer-Dudek, PhD, Ben-Gurion University of the Negev, Beersheba, Israel
About the Conference
The 2021 Conference theme, Protests, a Pandemic, and Political Unrest: Hypnosis to Weather the Storm, puts a focus on moving through the seismic events of the past year. 2020 revealed waves of shocks to many of our systems, including clients/patients, communities, families, countries, and the list continues.  As we continue to navigate through challenging times marked with widespread hardships, our 2021 conference will focus on supporting one another in order to take care of our clients/patients, as well as ourselves. Prominent experts in the field of hypnosis will join us to offer fresh creative interventions and applications of clinical hypnosis. 

In addition to keynote presentations, the Scientific Program includes Research Presentations, Symposia, and a Poster Session. The workshops component of the event features Introductory, Intermediate/Skills and Advanced Clinical Hypnosis Workshops. Workshops meet accepted Standards of Training in Clinical Hypnosis. Several networking events round out the program. Attendees can earn up to 25 CEs which also count toward SCEH Hypnosis Certification Programs.

The Society expects to open registration in early July. The Annual Conference is open to those who meet SCEH membership eligibility criteria.  Learn more about SCEH membership or review a list of member benefits.  Please bookmark the #SCEH2021 conference page for more details and event announcements:


 72nd Annual Workshops and Scientific Program

Protests, a Pandemic, and Political Unrest: Hypnosis to Weather the Storm
October 13-17, 2021     #SCEH2021      Online *

Stay tuned to the conference webpage for details and updates.
#SCEH2021  #ClinicalHypnosis #HypnosisResearch #MedicalHypnosis #HypnosisTraining #HypnosisWorkshops #MentalHealth #MentalWellness #EvidenceBasedTreatment
Share this post: