SAVE THE DATE!
2020 Midyear Clinical Hypnosis Workshops (Three Tracks)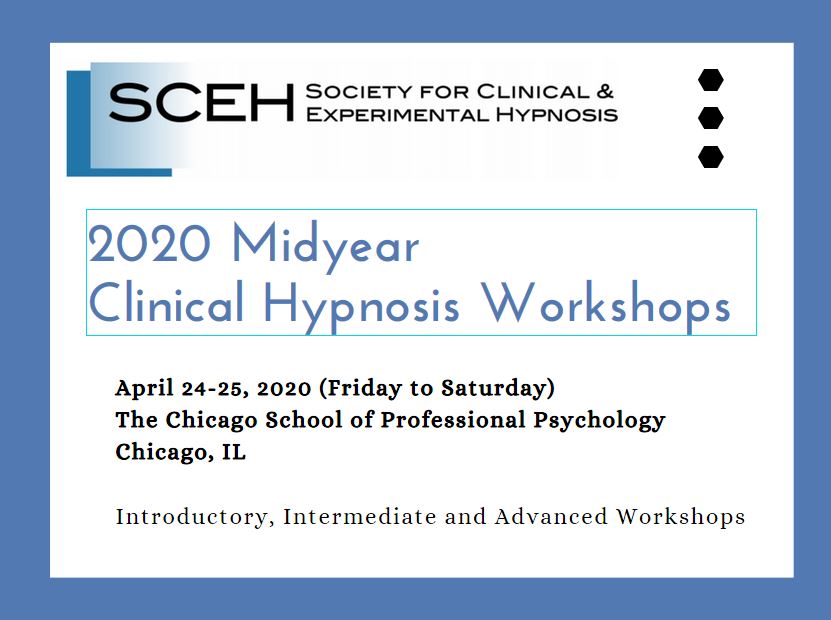 Co-sponsored by the Society for Clinical and Experimental Hypnosis and the Institute for Continuing Education

Training Supported by Division 30 of the APA: SCEH is working with APA Division 30 to promote this event and to grant their members a discounted registration price.
Learn more about SCEH Midyear Workshops, now in their third year.
View our Save the Date flyer.     
Bookmark this page for details and registration (coming soon): 
www.sceh.us/2020-midyear-workshops
EVENT SCHEDULE
Friday: 7:30 AM Registration; 8:30 AM - 6:00 PM Workshops
Saturday: 8:30 AM - 1:15 PM Workshops
2020 Midyear Clinical Hypnosis Workshops (Three Tracks)
April 24-25, 2020   (Friday and Saturday)
Chicago School of Professional Psychology,Chicago, Illinois