2020 Annual Conference -
Moving online for 2020!
August Update:  We're moving online for 2020.  See preliminary event information below and stay tuned for more details, coming soon!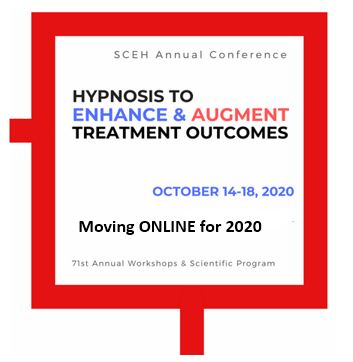 Introductory, Skills and Advanced Workshops plus Scientific Program.

Workshops meet accepted Standards of Training in Clinical Hypnosis and count toward SCEH Hypnosis Certification Programs.

Conference Registration Opens: Summer 2020

#SCEH2020
Bookmark this page and watch for more details on our 2020 Annual Conference as they are finalized.
Introduction
SCEH is very excited to be celebrating its 71st anniversary at our 2020 conference. The conference continues the proud tradition of SCEH meetings to focus on the evidence base of clinical hypnosis.  This year's event will explore some new and varied topics, while providing attendees the opportunity to gain CE credits, engage in vibrant debate and learn best practices and tools from instructors and colleagues."
All Presenters and Attendees are asked to familiarize themselves with SCEH Confidentiality Statement for Attendees and Presenters.
Agenda is subject to change.  SCEH reserves the right to cancel any workshop due to insufficient registration.
Conference Theme
Our conference theme for 2020, Hypnosis to Enhance and Augment Treatment Outcomes, puts a focus on patient and client results and the power of hypnosis to positively impact patient care.
During these unprecedented and challenging times, our 2020 conference will focus on teaching skills, creative interventions, and applications of clinical hypnosis. Workshops across three levels (Introductory, Intermediate/Skills and Advanced) will review the utilization of hypnosis as an adaptable adjunct to other therapeutic interventions for enhancing treatment outcomes. Consistent with prior SCEH conferences, participants can also attend the Scientific Program, a Poster Session and some networking events.  The Scientific Program will offer keynotes, symposia and research presentations with speakers from across the world, addressing the scope of hypnosis in both psychological and medical settings.
Who Should Attend
Our events are designed for: Psychologists; Physicians; Social Workers; Counselors; Dentists; Chiropractors; Master's level Nurses, Clinical Nurse Practitioners and Health Care Coaches; other Master's level licensed mental health and healthcare professionals, and clinical and experimental researchers in hypnosis.
Any health care professional who is eligible for SCEH membership may register. Special student rates apply. View SCEH membership eligibility requirements here.
Conference Schedule at a Glance
The 2020 Annual Conference will take place online, from Wednesday, October 14 through Sunday, October 18, 2020. 
Please note that all listed times are in Pacific Daylight Time (PDT).  Click here for help converting time zones.
 

Introductory Workshop

(taken as a cohort)

Intermediate/Skills Workshop

(taken as a cohort)

Advanced Workshops


(mix & match Advanced or Skills topics)

Scientific Program



(taken as a cohort)

Wednesday

Thursday

Friday

Saturday

Sunday
2020 Keynotes Announced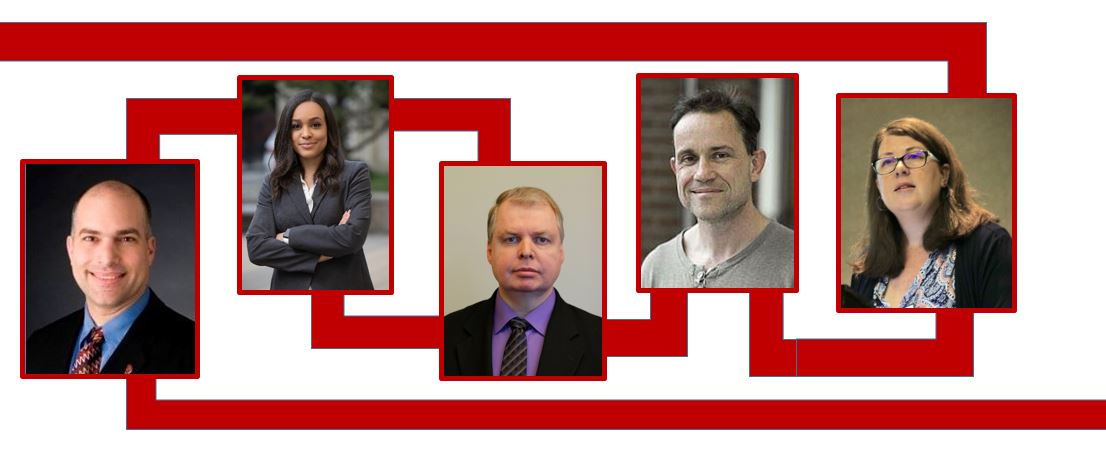 Shown above, in order of appearance, from left to right: Amir Raz, PhD; Amanda Calhoun, MD, MPH; Olafur Palsson, PsyD; Zoltan Dienes, DPhil and Amanda Barnier, PhD
Keynotes (listed in order of appearance)
Saturday, October 17, 9:45-10:45 AM PDT
Exploring the Neuroscience of Suggestion: from Words to Higher Vision
Amir Raz, PhD, Professor, Director, Institute for Interdisciplinary Brain and Behavioral Sciences, Crean College of Health and Behavioral Sciences; Psychology School of Pharmacy, Chapman University, Orange, CA, USA
Saturday, October 17, 12:00-1:00 PM PDT
Invited Address - Hypnosis and the Sunken Place: How Jordan Peele's 2017 Movie, Get Out, Illustrates the Dehumanization and Silencing of Black Americans by White Society
Amanda Calhoun, MD, MPH, Yale Child Study Center/Yale School of Medicine, New Haven, CT, USA
Saturday, October 17, 1:00-2:00 PM PDT
Making Clinical Hypnosis a Mainstream Component of Healthcare for Physical Problems: Perspective and Lessons from 25 Years in GI Hypnosis
Olafur Palsson, PsyD, Professor of Medicine, University of North Carolina, Chapel Hill, NC, USA
Sunday, October 18, 9:45 - 10:45 AM PDT
Phenomenological Control as Cold Control
Zoltan Dienes, DPhil, University of Sussex, Brighton, UK
Sunday, October 18, 1:00-2:00 PM PDT
Unravelling the Mysteries of Hypnotizability: A Componential Approach
Amanda J. Barnier, PhD, FASSA, Fellow SCEH, Pro Vice-Chancellor (Research Performance) and Professor of Cognitive Science, Macquarie University, Sydney, Australia
 Watch this space for more details on the rest of the program, coming soon. 

2020 Conference Committee
 Overall Meeting Chairs:   Ciara Christensen, PhD and David Reid, PsyD
Scientific Program Co-Chairs:  Barbara McCann, PhD and Vivek Datta, MD, MPH

Introductory Workshop Co-Chairs:  Barbara McCann, PhD and Tova Fuller, MD, PhD


Skills Workshops Co-Chairs:  Alexandra Chadderdon, PsyD and Deanna Denman, PhD


Advanced Workshops Co-Chairs:  Ciara Christensen, PhD and Catherine McCall, MD

Members:  Janna A. Henning, JD, PsyD, FT, Zoltan Kekecs, PhD, Shelagh Freedman, MA, Anne Doherty Johnson, Executive Director
71st Annual Workshops and Scientific Program

Hypnosis to Enhance and Augment Treatment Outcomes
October 14-18, 2020
Moving online for 2020!
#SCEH2020
2021 Conference
October 2021
Sheraton Park Hotel at the Anaheim Resort, Anaheim, CA